Entertainments and Attractions
All Entertainments and Attractions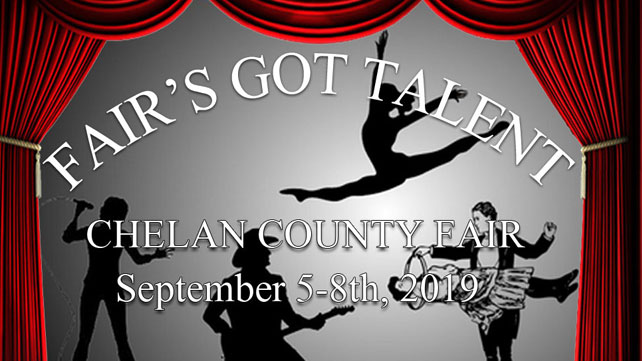 Fair Got Talent 2019
Thursday, September 5th & 8th
2019 Chelan County Fair's Got Talent
Singers, Musicians, Dancers, Bands, Magicians, Jugglers and acts of all kinds!

Fair's Got Talent Semi-Finals

Fair's Got Talent Finals

How To Join
Brief bio (age, category & talent)
An audio / video files / link to a currently posted youtube video that showcase your talent.
Rules:
All audition materials must be submitted by Saturday, August 24! Notification will be completed by Wednesday, August 28.
Up to 20 acts can be chosen to compete on Thursday, September 5.
A panel of three judges will evaluate each act.
Nine acts will be chosen to compete on Sunday, September 9th for the top three prizes – First place being $150, second $100, and third $75.
Fairs Got Talent Categories will consist of individual, duets, and groups.

Three acts from each group MAY qualify to move forward on Sunday. 3 individuals, 3 duets, and 3 groups

A sound system will be provided with a sound tech and a CD player, phone auxiliary cord.
CD accompaniments must have the lead vocal tracks completely removed! Instrumental and harmony tracks are okay.
Bands will be expected to provide their own amps, keyboards, drums, etc., and to set up and remove their equipment.
All performances must be suitable for the family atmosphere at the stage.
Complete the

Fair's Got Talent Show Registration Form

.
Performers under 18 get a pass and one for a parent/guardian. Performers 18 and over get a pass for themselves.
For more information, call 509-421-3717 or email nicoled250@yahoo.com